---
Online categories
Google Nexus - On par with others or on top of them?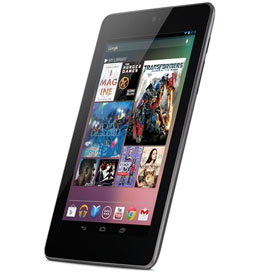 Google Nexus 7 acclaims to be the best Android tablet one could experience. Does it live up to the expectations satisfying millions of customers? Well, let us get deeper to find the fact. This is the first quad tablet manufactured by Google that runs on Android. There are great things in this tab to appreciate and some bad things to depreciate. The tab is designed with a premium design, improved voice search, wide screen. The Nexus 7 is lighter when comparing the tablets with such specs and price range. Siri-like voice recognition apps is available in this tab that allows us to search the Web with our voice. This app is useful to get info about the shops in the city, recent match statistics etc. The Nexus 7 is integrated with 1GB of DDR2 RAM, as contrasting to the faster DDR3 RAM in the Asus TF300.
The Nexus 7 is clustered with the Wi-Fi support, Bluetooth, a gyroscope, an accelerometer, and Global Positioning System. This tablet also supports Google's NFC-based technology and Android Beam. The much hyped project butter is effective in giving faster user experiences in various activities. This tablet is the only one in the market with the Plain Vanilla Jelly Bean operating system, the Android 4.1 version. It does bring some enhancements in the software responsiveness. The battery life is solid and lives to expectations. Multitasking and navigation is faster with the new operating system. The apps load faster and respond quicker. There are many Google services that fill the display.
Google Chrome marks its presence in the tablet along with Gmail, Google plus etc. Google Now gives you location based information ranging from weather, bus schedules and many more. To be on par with the rich contents offered in the Kindle Fire, Google comes up with Google Play, giving movies, shows, magazines etc but they are far costlier than the Fire. The camera surely disappoints you with no camera app inbuilt. Neither 3G nor 4G marks its presence, which is obvious with the cheaper cost of the tablet. Other negatives include the absence of retina display as compared to Apple's tablets and the absence of a memory card slot, thereby limiting it to inbuilt storage. With so many advantages lining up, in display and responsiveness, thanks to the Jelly Bean, the tablet is worth a try. More importantly, the price tag of $200 with these many pros makes this an excellent buy. Enhancing the contents offered, improving the play store, expanding the limited storage options, are some issues which when covered will take this tablet a long way ahead of its competitors. Nevertheless, it gives its best for the buyers with its affordable price.